Cardamom – Elaichi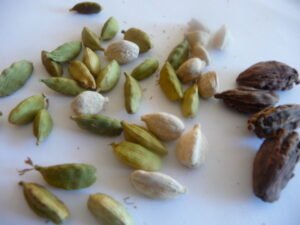 Cardamom( Elaichi) is a spice native to the Middle East, North Africa, andScandinavia. There are three types of cardamom; green cardamom, black cardamom and white cardamom. There is large brown varity available which is generally used whole-it is not as soft as regular Cardamom. It is best to buy cardamom still in the pods. Ground cardamom is readily available and found in grocery stores.
During my recent trip to India, I saw the plant of Cardamom for the first time in Kerala.
You can also buy cardamom seeds however; they lose much of their flavor once they are out of the pods.. Ground cardamom has even less flavor than the fresher ones. In most of the recipes I use green cardamom. Cardamom has a strong, unique spicy-sweet taste, which is slightly aromatic. Cardamom is more expensive than average spices. A little goes a long way. If a recipe calls for 10 pods that would equal 1 ½ tsp ground. Cardamoms last for a long time if kept in pods. I grind them -pods- in a Coffee grinder. The powder will contain the pod husk but it is very flavorful and you have to use very little. Cardamom is used in many Indian Sweet dishes and chai spice.