Curry leaves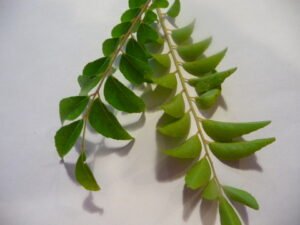 Did you know that Curry powder is not made from Curry leaves?
Indian name for Curry leaves is Kari Patta or Neem patta –  different region have different names but the name Neem, seem to be used by most.
Curry leaves are used mainly for Flavoring the food. There are many Variety of Curry plants. Some curry leaves are very dark Green and the plant can grow to a Big tree- a great shade tree. There are smaller and, somewhat lighter green leaves-the plant stays like a small  fruit tree.  Both have same flavor and use.
These aromatic leaves are used to flavor, Soups, Daals, Vegetables, Curry and many other savory dishes. generally Curry leaves are not used to flavor any sweet dish.
In some Southern Indian dishes, Curry leaves are made in to a paste along with some other items such as lemon Juice, Chili etc.
Curry plants are now available in  Western Countries. These plants can grow to be big shady trees.  There are varieties of Curry plants but most people use the one with dark green smooth shiny leaves. the other Variety is the small green leaves. Both type of Curry leaves give a great aroma to food.They can be used fresh or dried. Their aroma is released by its heat and moisture.  The Curry leaves may be chopped and added to some dishes of Southern India. They are sometimes fried in the oil the food is cooked in, and then discarded or sometimes added while the curry is being cooked.  They are mainly used as an aromatic and flavoring for most curries and soups.  You can find fresh Curry leaves in Indian stores. The can be wrapped in paper towel and the put in the plastic bag in the refrigerator. The last for quite a few days.