Kasuri Methi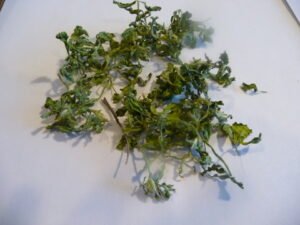 Fenugreek ( Methi) – This plant can be grown fro Fenugreek ( See detail under spice-fenugreek) seeds. Plants grow like Cilantro in small upright little plants. The leaves are used in making some Curry and other Chicken dishes. fresh leaves are bitter and have pungent quality.It is best to use dried leaves first to get used to the flavor. You may have to adopt to the taste.In many parts of India many cooks use fresh leaves to make gourmet dishes.
Kasuri Methi -is a dried herb-spice. The leaves of the Methi plants are sun dried and stored as they last longer time.The entire plant has a strong,  aroma. The mature leaves have the bitter taste.  Ground fenugreek (seeds) has a warm, yellowish-brown color with a strong curry-like taste. In powdered form, fenugreek is one of the ingredients in many curry powders. Fenugreek is used to add flavor to meat dishes. It is also considered as an aphrodisiac. Methi-fresh or dried seeds give a pungent  aroma.
Fresh Methi leaves are used with Daals, Curry Dishes and Vegetable, and for some Flat breads.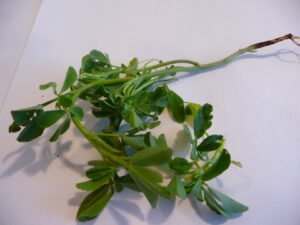 The ground Methi seeds are used in Indian Pickle Masala mix. Whole Methi seeds are used in tempering to add flavor. Methi having  the bitter taste, it is important to practice cooking with them  and understand the taste before serving to Company.