Star Anise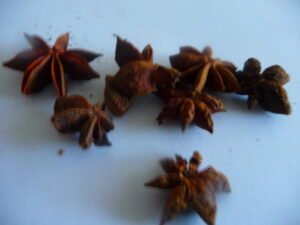 Start Anise : Because of its extreme olfactory similarity to anise, star anise is named after anise in many European countries. Quite often, a name for star anise if formed by combining the local name for anise with an epithet referring to the Asian origin or the characteristic star-like shape European anise is known as grain-shaped star anise in Vietnam and as badiyan romi  Roman star anise in Iran. The Kashmiri name badian rather surprisingly denotes another similar spice, fennel. The origin of this spice is not clearly known to me yet it might be an adaption of Chinese ba jiao. English, and probably in other languages too.
The character­istically shaped fruits (pods), always used in dried state. Besides the regular eight-pointed shape, one rarely finds single specimen with a larger number of carpels.
The essential oil resides in the pericarp, not in the seed. The star shaped dry pod has a distinct aroma. Some coffee houses use it in Chai. The whole Star Anice pod give great flavor to Rice.
Like anise, but stronger: Warm, sweet, aromatic. An overview on spices similar to anise. Some  imports come fromChina, but the spice is also planted in Laos, on thePhilippinesand even in Jamaica.