Amazing UBE Fruit Salad Dessert
Special holiday fruit salad with UBE Ice Cream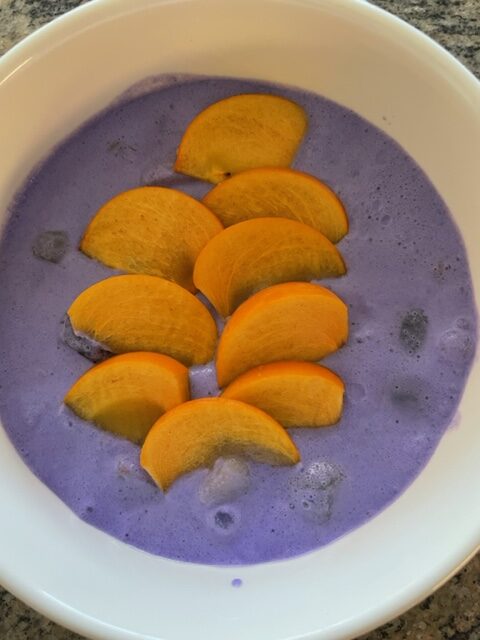 This UBE dessert is a very popular dessert. Ube Ice Cream is made from Purple yams. The very first time I learned about it was when my family was visiting Philippines. My daughter showed me the photo of Halo Halo which had UBE Ice cream. The ice Cream looks purple-because of the purple color in Yams..
So I wanted to make something special for Thanksgiving. I made up this recipe and added the UBE Ice cream on top. I bought this Ice cream from a Philippine market. The fruits and colors seem just ideal for the holiday season in this recipe. It's a great time to make it during the fall season while persimmons are available. I have used Fuyū persimmons as a topping so please check my blog about persimmons in case you want to know more about them. If you want to make this dessert when Persimmons are not available, you can substitute with another fruit.
This is very tasty and easy to make, no baking required. Make ahead of time to share this dessert, your guests will love it and you would want to make it over and over again.
If you use other fruit for topping, just make sure it cuts well. it can be a special Dessert anytime.
You purchase UBE ice cream from Trader Joe's to make this dessert anytime and use different ice cream or different colored fruit.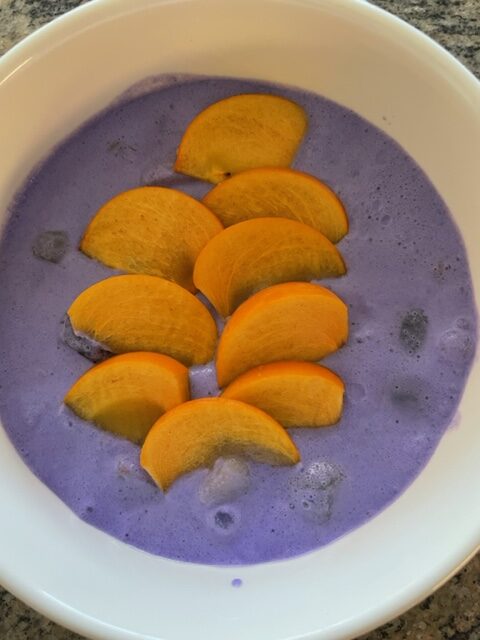 Amazing UBE Fruit Salad Dessert
Instructions
Lets prepare the fruit first

Wash and peel the fruit. Cut them per the ingredients notes.

Mix well and set aside in the refrigerator.

Please take out about 2 cups of Ube ice cream from the container and leave it out for about 10 minutes.

Pour it over the fruit mixture in the Bowl and leave it in the refrigerator.

Add Fuyū persimmon topping

Take one Fuyū persimmon and cut in half and slice it -make about 10 to 12 slices. Arrange it over the ice Cream as per the picture and serve.

Once prepared, you can leave it in the Refrigerator for a few hours. You can add or remove the fruit as per your need or availability.

Leave a comment and let me know how it turned out!
Thanksgiving Special Dessert, UBE Ice Cream, Fruit Salad,
Recipe Card powered by