Vegan Cole Slaw- Indian Subzi-Vegetable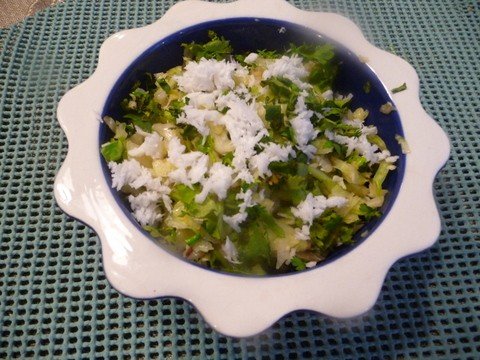 When I lived in Malaysia, our South Indian cook made a very nice cabbage dish.She used Urid Daal, Curry leaves, Grated Coconut and cooked it like I used to cook -with out some of these ingredients. So I decided to cook the cabbage like she did but added Jalapeno to give a little Zing to it
Cabbage is a difficult vegetable to cook without having the whole house smell of Cabbage. It releases water when salt is added. So here is the trick. Add salt after you have chopped or shredded the cabbage. Let it stand for about 5 to 10 minutes. Mix well while squeezing with your hands. Then make a cup with one hand , put some cabbage in it and then squeeze using the other hand. Squeeze out the water-the cabbage will look wilted but just work on squeezing out water from Cabbage .Follow directions and you will create a great Cabbage dish. Frozen Grated Coconut is available in Asian Markets,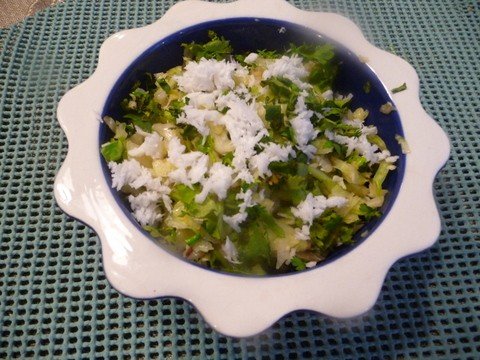 Vegan Cole Slaw- Indian Subzi-Vegetable
Instructions
Shred Cabbage, put it in a Mixing bowl and add salt to it.

Let it stand for about 5 to 10 Minutes. Salt will start the process of releasing water from cabbage. Mix and squeeze with both hands.

Put some mixture in one had making a cup and cover with the other and squeeze out the water.

The cabbage will liik drained and wilted. Put the squeezed cabbage in a plate.

Heat oil in a skillet, add Mustard and Cumin Seeds, add Urid daal or Peanuts. Do not turn heat down.

Add sliced peppers , stir and add cabbage. Add Turmeric, 2 tablespoon Cilantro and 2 tablespoon Coconut. Mix well and turn off heat.

This can be reheated before serving. Add the Garnish and serve.

This dish is best served right away.
Recipe Card powered by