Mexican Bhel- Fusion Salad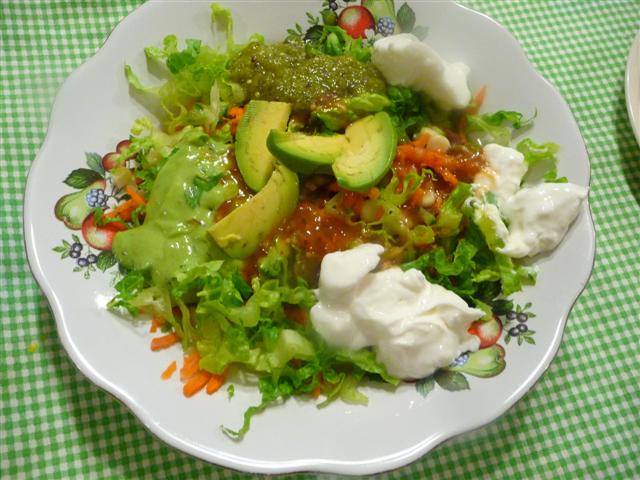 We have been making this dish often in Summer. Bhel means Mixture of items put together to make a dish.
This is quick and very easy. Seems like a lot of items but this is noting more then making a good Salad. When the table is set, guests will think you have worked all day. Most of the ingredients are store bought-one can also make everything from scratch and work all day but the recipe here is simple and quick. I bought Flour Tortillas – bought green-spinach Tortillas also, and cut them with a Pizza Cutter in Diamond shapes and fried them. You can do this 2 or 3 days ahead. I bought Green and Red Salsa, a can of re fried Beans-I bought the Black beans re fried-made sure the can reads Vegetarian. Lettuce, Carrot, Cucumber, Frozen Corn kernels, Mexican Blended shredded Cheese Some places may not have this type of cheese available-one can use Cheddar Cheese. Cilantro-Avacados, Lime and, ready made Guacamole without any bacon (since this is a vegetarian dish)- if Avocados are not available fresh.
For Vegan, do not use the Sour cream and cheese.
Some may call this dish- taco Salad.
I found is easier to use Soup dishes for serving plates.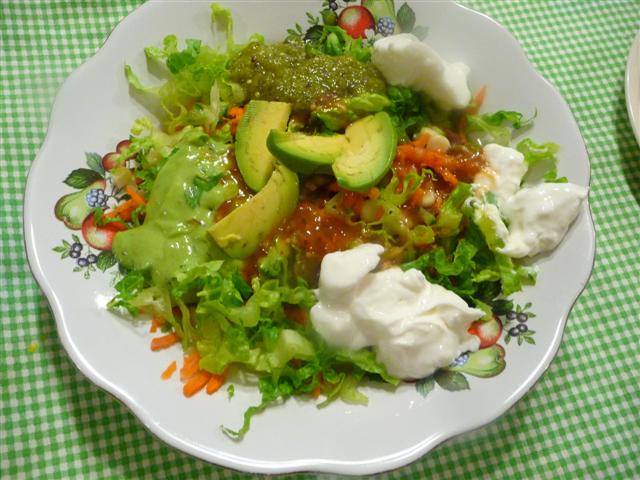 Mexican Bhel- Fusion Salad
Instructions
Cut and Fry Tortilla pieces

Heat Refried beans-add 1 Table spoon Cilantro and Onions Each

Prepare Beans and Tortilla Trays

Dish out all Vegetables and Salsa in serving bowls

Show to your Guests how to prepare their own dish.Put some-handful- fried Tortilla pieces, add a spoon of re-fried beans, add Vegetables and Onions.Add Guacamole and Salsas -use your own judgement for Taste

Garnish with Cilantro, Cheese and sliced Avocados and top with sour cream.
Recipe Card powered by