Green Falafal- It is Vegan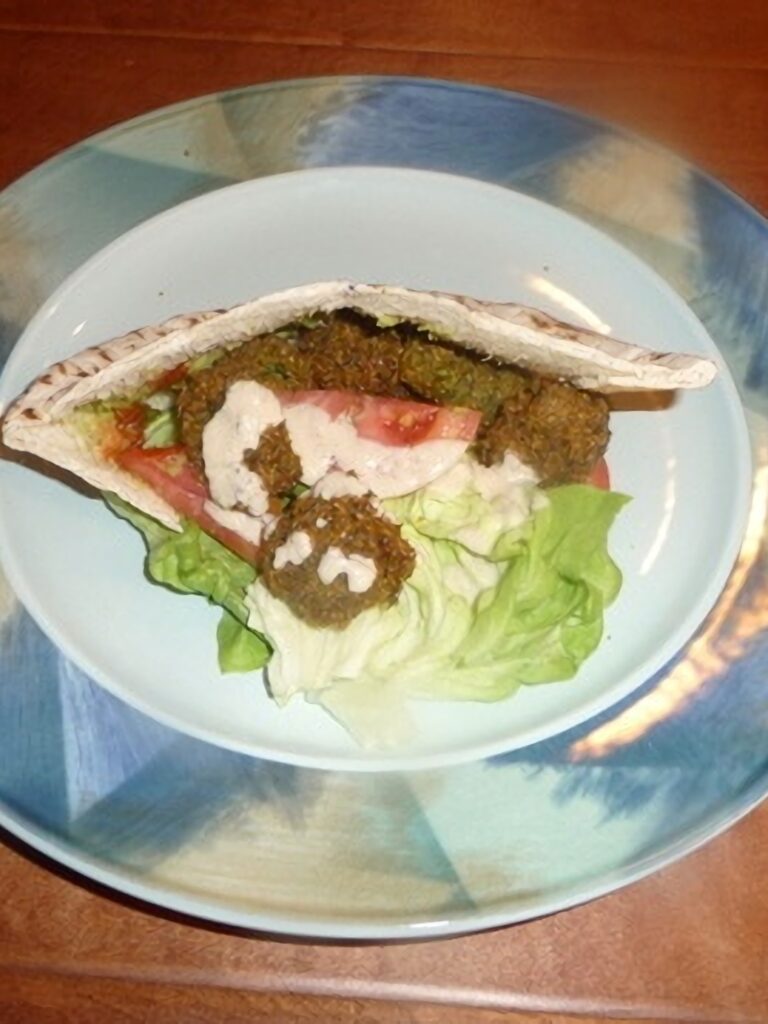 Falafal : Falafal is usually served in a pita, which acts as a pocket, or wrapped in a flatbread, originally comes from Egypt but can be found pretty much everywhere throughout the Middle East.I have seen them in Greek restaurants also. It will not matter where it is from as long as it tastes good and it is easy to make. I think most Indian s like Falafal because it has the fried Chick peas-patties that taste similar to Vada and it can be made spicy. You can buy Falafal Packet and Tahini( available in Jar) in a Middle Eastern market.
You can use the mix or use a pkt-16 Oz frozen peas ( if you can not find Edamame)and corse grind them and mix it in to the Falafal Mix.
Recently I saw a cooking show where Arti-the Chef- made Pealafal. the tray and other items were really pretty and well arranged for a party, SO I adopted this recipe from her. I bought Pita breads-there are two variety in the market-thick and thin – thick works but you have to cut in half and the open them and butter them before warming. You can use the thin ones also, I have shown two types of Photos here. One with Thin Pita and one with Thick. If you do not want to fry the Falafal balls, make a patty and pan fry it- you will see that in the photo.
Made a Garnish tray with Tomatoes, Cucumber, lettuce, Tahini (recipe below), red salsa, Olives, and cilantro. For Falafal balls, I took the short cut- I bought Falafal Mix from the market and added my own items. I use peas and Edamame- green soya beans. garlic, and some spices. whole family enjoyed it. The Falafal balls really look green instead of brown. What makes this dish fun is the garnish tray or the tray of Sauces and colorful garnish. Show your guest how to put is together and everyone gets involved.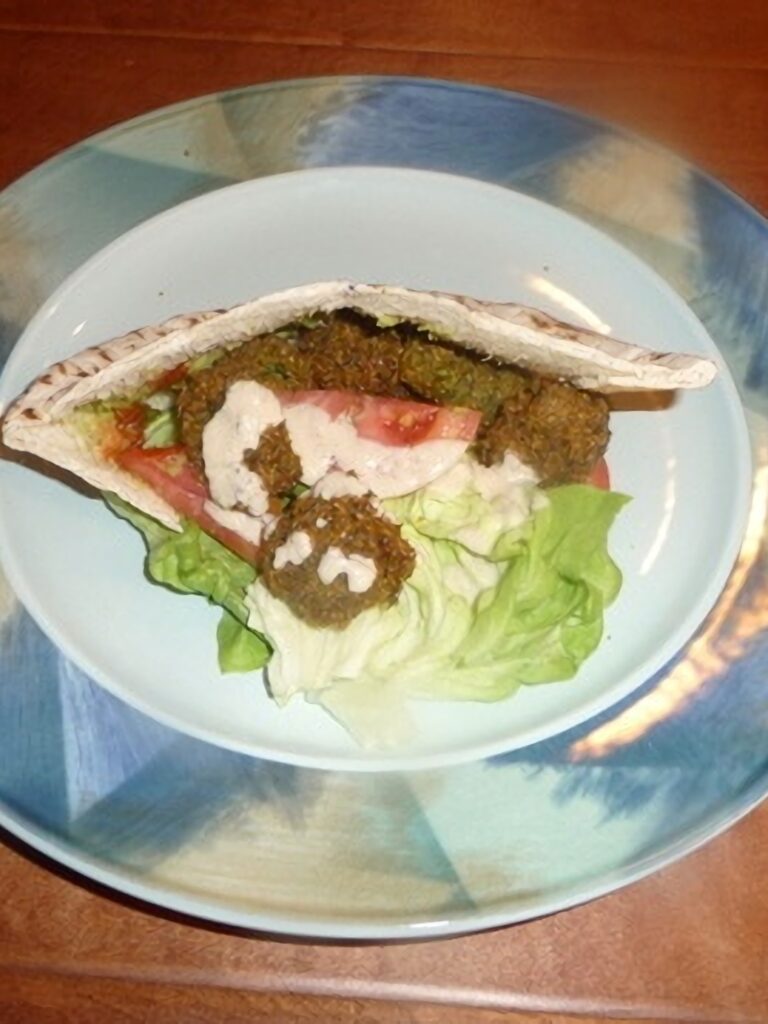 Green Falafal- It is Vegan
Instructions
Make Tahini by taking 3/4 cup Tahini from the jar and add 1/2 Cup Lemon juice and 3/4 cup water. Let it stand for 10 Minutes

Drain Peas and Edamame and put them in the blender until they are totally broken but not paste form.

In a Big mixing bownl, put the Falafal mix and add blended peas and edamame, add garlic, 2 teaspoon Cilantro, salt and mix.. The Mixture should be thicker then the Cake batter-

Heat oil- check with a small drop of Falafal mix to check if the oil is hot. The ball should float right away.

Use spoon to drop small balls of mixture.

When the balls are floating and are slightly brown, take then out on a paper towel.

Make the garnish tray by chopping lettuce, tomatoes, Cucumbers, and bowl of tahini and a bowl of salsa

Wrap the Pita breads in foil and warm them in oven

You should have: Warm Pita Bread, Fried Falafal Balls and the Garnish tray with sauces

Open the Pita Bread and put a little lettuce on 1/2 of the bread,about three to five Falafal balls, tomatoes, ccccucumber, more lettuce and then add Tahini and saalsa, fold the Pita and enjoy. It is best to use hands.
Recipe Card powered by