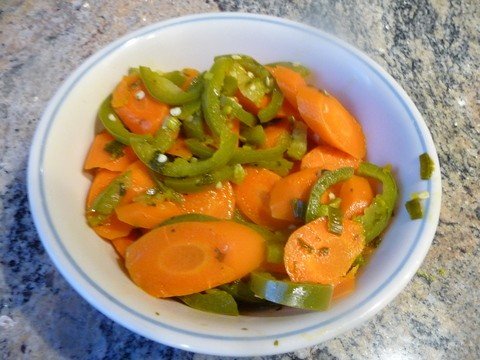 This is recipe given to me by my daughter. She cooks most everything from scratch and she is a wonderful cook.
She made this dish one evening and it was a "Hot" item with dinner. This can be served as Pickle or a condiment. This dish is very easy to make and takes only a few minutes. Requires a little cooking. Best thing about it is, most of the ingredients are daily used items, such as Onions, Apple Cider Vinegar, Herbs such as Oregano or Thyme or, Marjoram, Garlic, Oil, Carrots. Yes you do need Jalapeno peppers. You do not need to remove the seeds. we sliced Carrots and Jalapenos about less then 1/4 inch thick. Be careful slicing the jalapenos- wash your hands with soap right after handling them.
Serving suggestions: Use as a Pickle, Condiment or with your favorite Crackers as appetizer.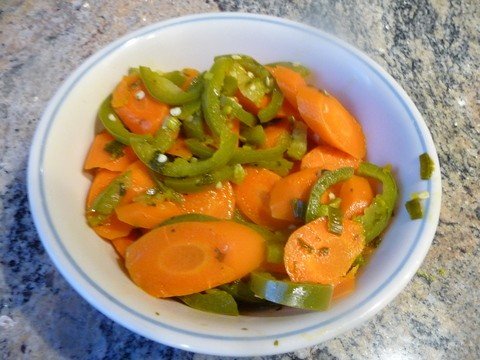 Mexican Carrot Pickle
Instructions
Saute Onions, Carrots and then add Jalapenos

Saute for about a minute and add Garlic, salt and herbs

Simmer for about 3 to 5 minutes or until carrots still have some crunch left.

Turn off heat and dish out the pickle right away. Serve warm or cold
Recipe Card powered by