Kiwi Salsa-from Down Under
Salsa with Kiwi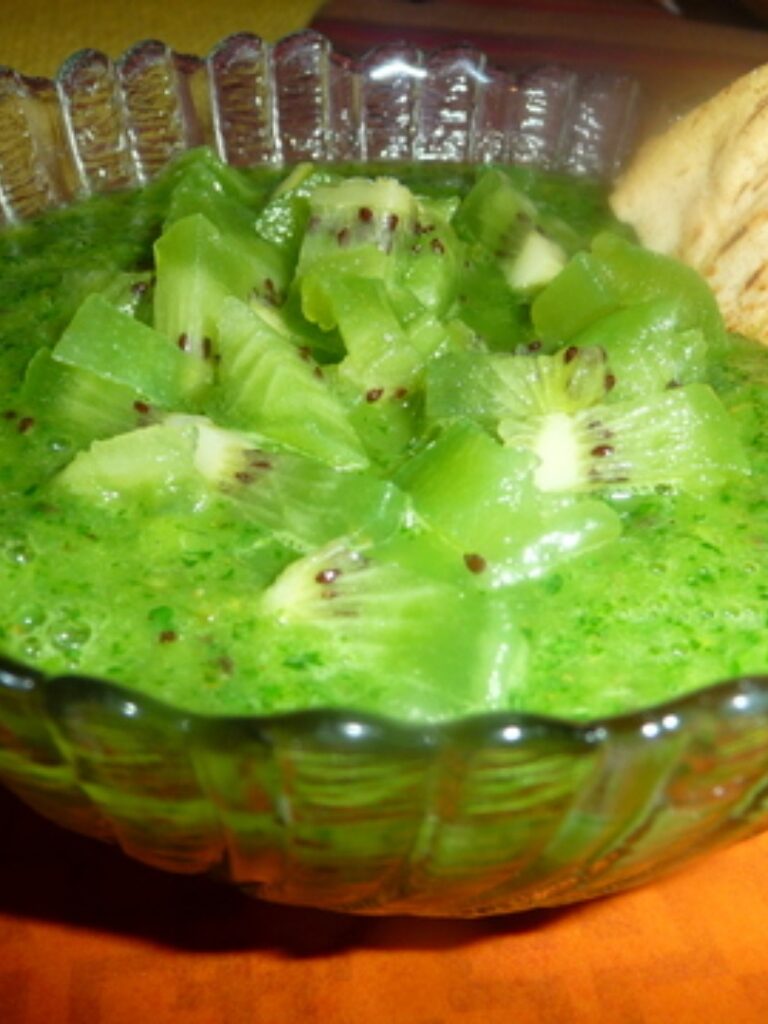 The fruit gets its name after the kiwi, the national bird of New Zealand, where the fruit was first commercially popularised in 1959 by the New Zealand fruit-and-vegetable export company This fruit was previously known as the Chinese gooseberry, but due to the Cold War, the Chinese label seemed unfit for popularization of the fruit in Western countries. Growers gradually adopted the name and in 1974 the kiwifruit became the official trade name.You may have heard that New Zealanders are called "Kiwis" by many-as a matter of Fact they themselves call them Kiwis.This fruit has Brown skin-like the color of Baking Potato but silky with fuzz. There are at least two kinds of Kiwi fruits in market in Australia and New Zealand. The Kivi fruit we see here in the USA is light green and semi transparent with black seeds in the middle. When ripe, the fruit is very sweet and juicy. The unripe fruit is tart. The other variety I saw while I was in Australia is the Golden Kiwi. Golden semi transparent inside and very sweet.I do not know many uses of this fruit but wanted to try something. So here it is, I came up with Kiwi Salsa. I hope you enjoy this creative colorful dish. I was amazed how fresh it tastes.I have used Tomatillo but you can use Tomato instead. It even makes it more colorful. You have to remove the skin before using.Removing the skin is easy-do not use the peeler. First slice the top hard part off. Take a small knife and gently remove the skin. from top to bottom.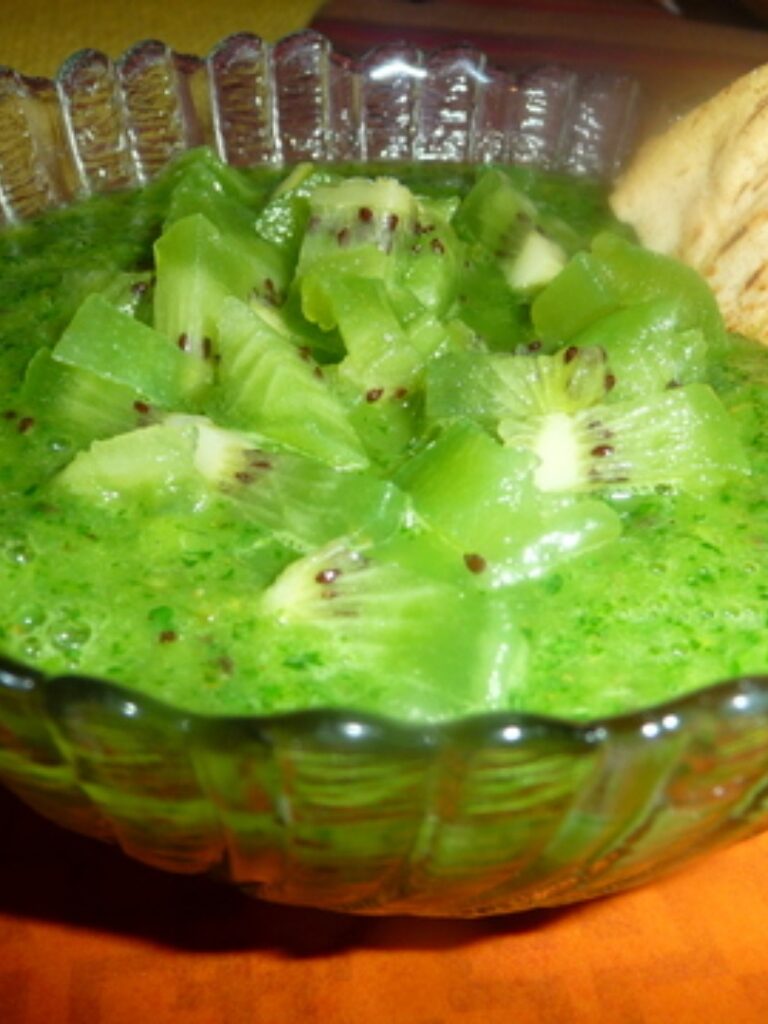 Kiwi Salsa-from Down Under
Instructions
Cut firm Kiwis in 4 pieces each

Cut the ripe one in small pieces to mix later.

Cut Jalapenos lengthwise and then in 1 inch pieces.

Put oil in skillet, add Jalapenos,Green onions and Firm Kiwis

Heat at low setting for about three minutes-just to soften the peppers etc.

Put Cilantro and the above mixture in the Blender, add dry ingredients and blend it till the mixture mixes but does not become paste.

Pour it in to the serving bowl and add the ripe Kiwi pieces. and serve with Tortillas or your Favorite chips.
Notes
This salsa will stay in the refrigerator-in a closed jar for up to 3 days. This has nice tangy taste and it is a little different then regular salsa. You can use less Jalapeno , if you do not want spicy. try with less amount first.
Kiwi Salsa, Salsa, spicy Kiwi dip
Recipe Card powered by