Spicy Tortilla Soup
spicy Mexican Soup,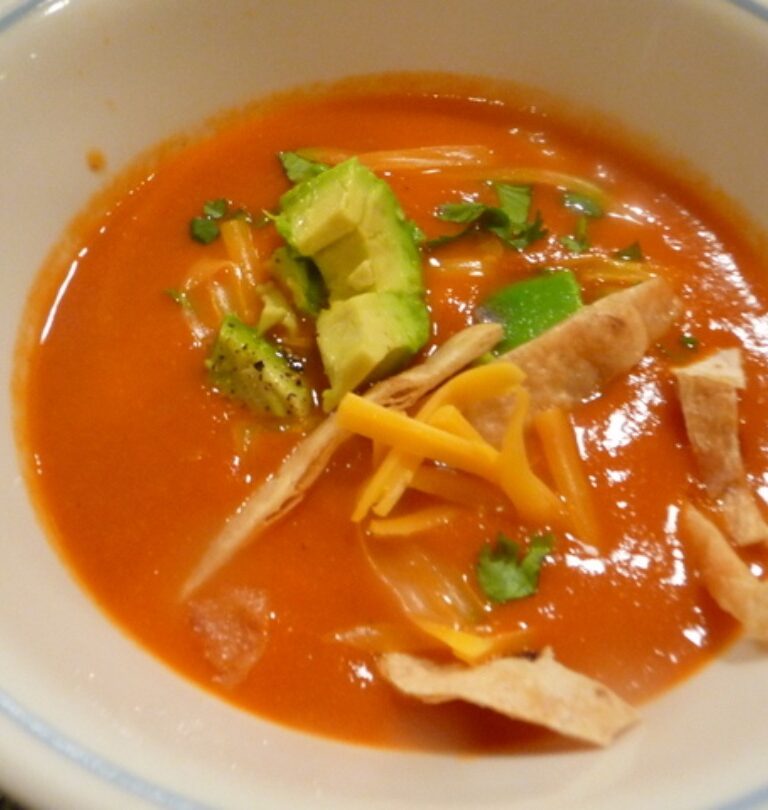 Living in California we are exposed to variety of Mexican foods. The Mexican food has similar spices to Indian spices. Probably that is one of the reasons people from India love the Mexican food.
Mexican food has become popular in California within last 25 years. More awareness of Mexican food here may be because of Geographic connection.
when ever I have gone to a Mexican restaurant and wanted a Tortilla Soup, I had to check to see if they use any Chicken Broth -most restaurants use it and I end up not having it. So I decided to create my own with Vegetable Broth. Of course you can buy the Vegetable broth in many stores now. In this recipe, I am using Store bought Vegetable Broth as it saves time. Just remember- the Broth has more Sodium and so do Tomato Paste. It is a Great meal – or a Starter in Winter. This dish can be made, without Cheese for Vegan.
I use tortilla strips and put them in the toaster oven for a few minutes to make them crisp instead of Store bought- it is matter of your time and taste. I have used Corn in this recipe to give that special taste. Baby corn kernel in can or frozen will do.
I use Chipotle Chilies from a Can. Which comes with spices and in oil. I use about two pieces and chop them fine Freeze the rest for later use. Or Mexican Hot Sauce is easy to use- your favorite one.
Before I make any Mexican dish, most of the time I check my pantry and then take a trip to a local Mexican market and see what I need. I enjoy going to the market and browse to see what is available.
Add the Chipotle paste-may be a few drops to start with and add more if needed-directly in to the bowl before serving. This dish is very special. Let your Guests see how you add the garnish. Let them garnish it themselves and Enjoy. This recipe makes four servings.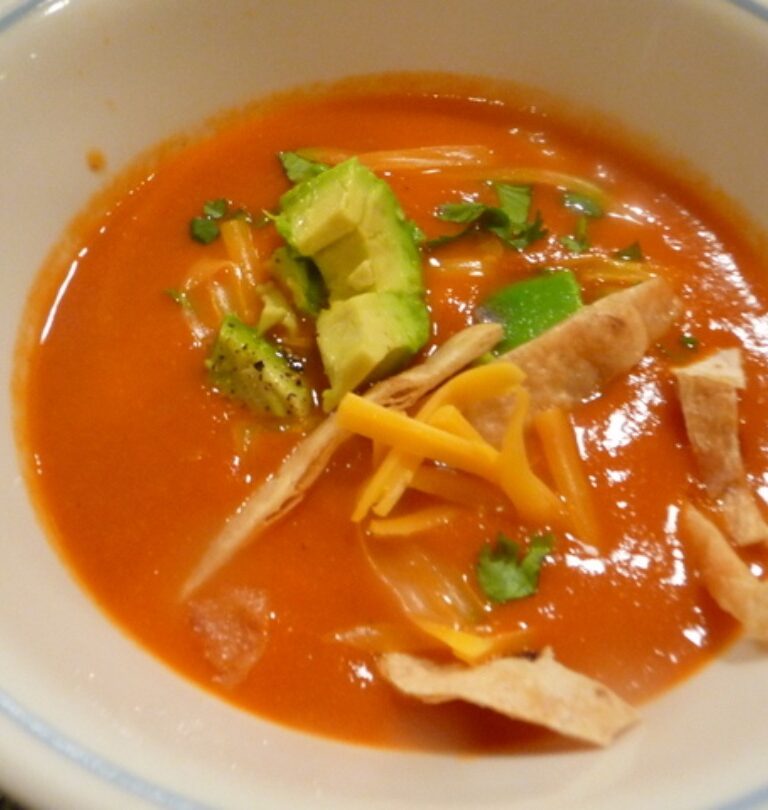 Spicy Tortilla Soup
Instructions
Easy to make. Tortilla Soup-can be Vegan

Heat oil in a big pot, and saute Onions, Garlic, Add corn.

Add tomato paste and stir well, add 1 cup Broth and bring to boil.

Let it cool - may 10 minutes, and then blend it so it becomes like paste.

Put the mixture back in to the pot and add the rest of the Broth and boil.

How to serve

Now prepare the Garnish dish with last 4 Items with

Put soup in the bowl and add a little of each from the Garnish tray and add Avocado- Serve
Notes
This soup can be made more spicy by adding chili paste. Try without adding first.
To serve, put the soup in a large bowl . Cilantro, Avocado, cheese, and tortilla strips in separate  bowls, You can serve this soup with Rice, Plain worm Tortillas or just have this soup by itself-Great for cold weather.
soup, spicy, Mexican
Recipe Card powered by