Ice Kachang – South Asian Desert
Fusion Ice Kachang, Burmese Desert, Shaved Ice Desert, Cool, Tasty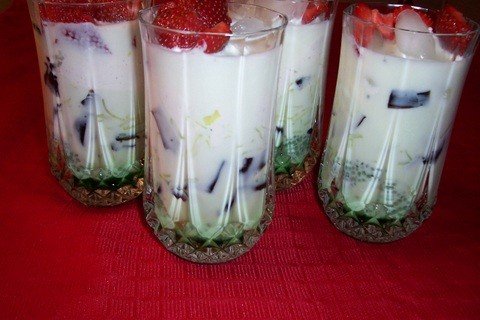 This is a great Desert to prepare in front of your guests and impress them. It is very easy to make and very colorful. The key is to prepare the topping tray ahead of time and have it ready. Once you have an idea how to make it and what you would like to add, you can use your own ideas and imagination.
When we lived in Malaysia, our most favorite Desert was Ice Kachang from the Hawker- Stall. The shaved Ice, topped with Coconut milk, sweet beans, colorful syrup, Agar Agar- colorless sugarless Jelly,Palm fruit and many other fruits-of your choice. I really did not care for the beans in the mixture.
When I was growing up, we had similar dish – Falooda. This was made with Ice Cream, Falooda noodles, Takmaria, Syrup and fruits. Similar items with shaved ice was also available but without the Jelly and fruits-they are called Gola.
Similar to this dish was also very Popular in Burma- now Myanmar.
I started making Ice Kachang and creating different deserts after i came back from Malaysia. Each time I made it, it was different but very colorful and yummy. I do not like sweet canned beans in my desert so I totally avoided them.
I go to Orental/Chinese market and buy the items. Almost all items are available in Cans.
I would buy, can of: Black jelly or, Green Jelly( to make it colorful), Young Coconut meat, Palm fruit,The Black Jelly and Agar Agar are made from Seaweeds. Strawberries were in season so I used them and that really gave great colors. There will be a lot of left overs from these items-stays good in the Refrigerator for about 5 to 6 days.
Takmaria-Basil seeds-very similar to Chia seeds are realy special and give the crunch and the special appeal to this dish. to use, soak them in water and see them puff up with a translucent layer around them. They have crunchy feel even after soaking in water. Someone told me they look like tiny fish eggs- they are SEEDS. These seeds should be soaked in water for 10 minutes before serving.
Adding a colorful flavored Syrup adds a special touch. this is optional.
Great thing about this recipe is, you can add or change toppings of your choice.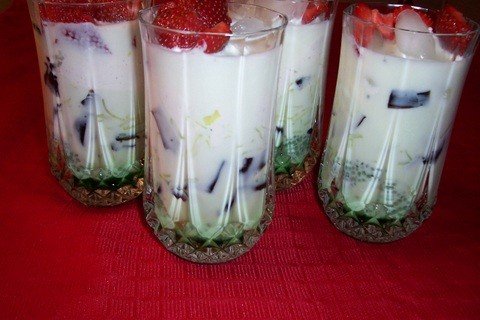 Ice Kachang – South Asian Desert
Instructions
Open the cans of fruits, rinse them and cut them in to about half inch pieces.

Open the can of Jelly from both end and push from on e side so the entire amount slides out in a plate. Cut jelly in to half inch pieces.

Prepare a tray or individual bowls, with all ingredients other then Ice Cream.

In the serving cups or bowls- put about 1/4 cup of shaved ice, two scoops of Ice Cream, add a spoon of Jelly, all fruits, Takmaria( Chia seeds), your choice of syrup- I use the green syrup (available in Indian store) and top with Pistachios and serve.
Ice Kachang, Malaysian, Burmese Desert, cool summer Desert
Recipe Card powered by