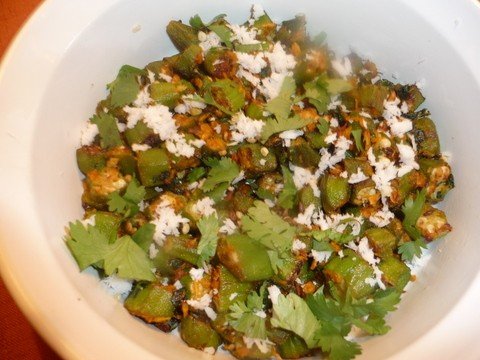 Okra-Bhendi( Indian name)-Ladies Fingers(British Word) :
Okra comes from a vegetable plant thought to be of African origin. The word, derived from the West African nkruma, was in use by the late 1700s. Grown in tropical and warm temperate climates, Okra is usually available fresh year-round in the South, and from May to October in many other areas. You can also find okra frozen, pickled, and canned, and in some regions you might find frozen breaded okra for deep frying.
When buying fresh okra, look for young pods free of bruises, tender but not soft, and no more than 4 inches long. Okra may be stored in the refrigerator in a paper bag or wrapped in a paper towel in a perforated plastic bag for 2 to 3 days. Cooked okra can be stored (tightly covered) in the refrigerator for 3 to 4 days
Cooking Okra is a little tricky as it can get slimy and sticky.Okra (also known as gumbo), has its own unique flavor and can be mixed with other vegetables. Mixing Okra with other vegetable which do not releases juice while cooking will bring better results.
Okra cooking i- Indian style -generally is cooked in the skillet and without adding any water. They will redduce in bulk-almost half once cookedd. This is important.
Okra exudes a unique mucilaginous juice which is responsible for its thickening power in the famous Louisiana Creole gumbo dish. Aside from gumbo, okra compliments tomatoes, onions and corn. Okra tastes great fried also.
First wash-DO NOT wash after cutting. Wash in a colander and then dry on paper towel. Do not cut while they are wet.Cut the tips off on both sides-see photo. The slice then about half an inch rounds. Once you have practiced, you can change the size to one inch or so.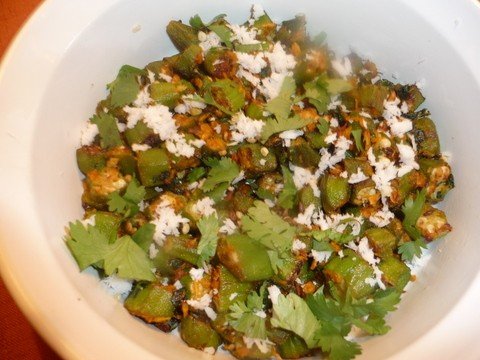 Okra – Bhendi – Masala
Instructions
Cut Okras in 1/2 inch rounds. Please see note and Photo for cutting Okras

Heat oil in a skillet at medium to high heat and add the seeds-(Mustard and Cumin) when the oil is hot- the seeds will start to crackel.

Add okras and turn the heat to low medium-do not stir. Okras may release some juice-do not stir.

Cook at low heat-do not cover- for about 4 to 5 minutes. Turn the heat down if they start to stick at the bottom.

Add, Coriander and Cumin Powder-Dhana Jeera, turmeric, Coconut and Cilantro mix, and chili powder. DO NOT STIR YET

Mix gently after 2 or 3 minutes-reduce heat if they start turning brown

Add salt and half of Cilantro and mix gently again. sssSome of them may have turned slightly brown-its OK

Gently spoon the mixture in a serving bowl and garnish with Cilantro.

Okras can be reheated at low heat or in Microwave.
Recipe Card powered by